The Best Of
The Best Of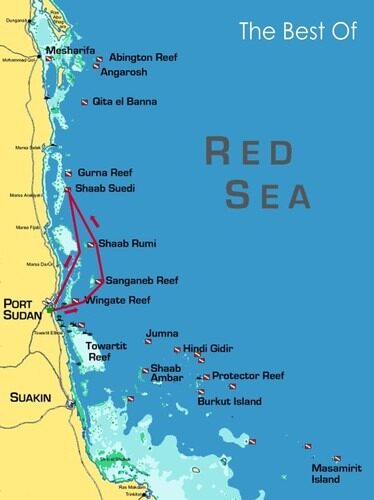 Period: all year long!
Leaving from Port Sudan, the boat will head north to visit some of the historical dive sites in the area. The closest one is Wingate Reef with the famous 'Umbria' wreck, a large Italian passenger-cargo whose captain decided to sink the vessel to prevent the ship from being captured by the British on June 10th 1940.
155 metres long, the cargo ship is still intact. Inside of it there is still a lot of war material, like aerial bombs and detonators, as well as some impressive Fiat 1100 which were destined to reach the Italian contingent in Eritrea.
Cruising further north, you will reach Sanganeb lighthouse (the highest lighthouse at the Red Sea with the marvellous 360 degrees panorama) where the stunning platform at the South-Point side is always crowded by grey sharks, hammerhead sharks, barracuda and jack fish. On the North-Point side, schools of hammerhead appear out of the blue.
Next stop is Sha'ab Rumi, described by Cousteau as one of the most amazing places of the sea world. We like to describe it as the place where reality exceeds imagination….
On Sha'ab Rumi South-Point a reef platform stretches out into the blue sea, inhabited by barracudas, jack fish, schools of grey sharks, silvertip sharks, and the 'most-wanted' hammerhead sharks.
At the entrance of the dive site, Cousteau built in 1964 the submersed laboratory Continental Shelf Station II, where, together with his staff, created an environment in which men could live and work on the sea floor.
The undersea colony is now completely wrapped around in corals but the structures are still recognizable.
18 miles North, there is the dive site of Sha'abSuedi, where the giant wreck Blue Belt lays on the bottom of the sea. The Blue Belt is a cargo ship sunken upside down on the reef on December 1st 1977, which is now plunged at 60 meters due to seismic movements. In memory of its passage we can find the remains of its cargo of cars and Toyota pickups scattered on the plateau at about 18 meters. This dive continues through the pass where huge enchanting pyramidal coral formations have inspired the famous photographer Riefenstahl Leni in her book "Coral Gardens".
This itinerary is ideal for those who visit Sudan for the first time, since in one week it gives the opportunity to visit all the most famous dive sites of the area.