CENTRAL ATOLLS
Central Atolls - North-South Malè & Ari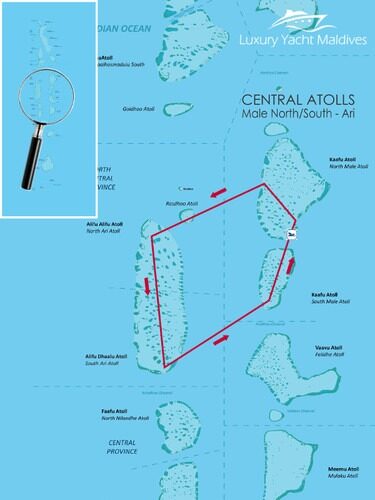 North-South Malè & Ari
A two weeks trip with stays on the central atolls - North and South Male, Rasdhoo, Ari - with the opportunity of sighting sharks and manta rays on the various diving points, while travelling East-West through the archipelago.

Heading towards Rasdhoo and diving in Rasdhoo-Madivaru, in search for hammerhead sharks.
Navigation will then proceed towards North Ari, and, crossing the atoll lengthwise, we will touch the most beautiful and rich in life thilas of the Maldives, searching for whale sharks. Frequent landings on desert islands, beaches and fishermen's islands, are one of the reasons for which those who really know the Maldives appreciate this cruise. We will head back to the eastern edge, navigating through South Male, with a stop at Guraidhoo.
It is also possible to visit Male city on the last day.