Classic & South Together
Classic & South Together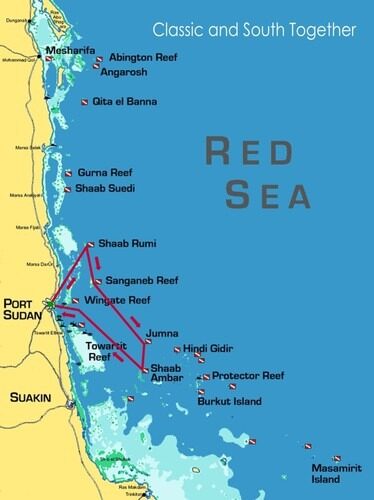 Period: from April to June and from October to mid November.
In the months of April, May and June and from October to mid November when the weather and sea conditions are their best, we will be able to dive the most famous dives sites among the classic route, as well as the most amazing dive sites of the South.
The first one will be Sha'ab Rumi, considered as one of the ten best dive sites in the world.
Both the South Point as well as the North Point, although very different, will amaze you with special encounters in an untouched coral reef and a part of history on Cousteau Continental Shelf Station II, where he lived underwater with his team for 44 days.
The next stop will be Sanganeb; also here both, the South Point as well as the North Point, are spectacular dive sites, from the benthic point of view and for the big pelagic encounters.
23 miles south, we will reach Jumna, a big triangular reef in the middle of the sea. The vertical wall offers lots of small caverns and indentations especially appreciated by photographers.
Very common to see are hammerheads, schools of barracudas and silky sharks mostly closed to the surface.
Our cruise will continue further south to Sha'abAmbar, an 11-miles long lagoon, with two main dive sites, one on the South side and one on the North side. The morphology of the reef is unique and full of marine life.
According to the weather conditions, a very special dive site is also the big madreporic pinnacle rising up from the deep bottom to the surface crowded with coloured fishes and alcyonarias. As in all dive sites in Sudan, the chance to spot hammerheads is always very high!
Other sites in the area are Hindi Ghider, or Seil'Ada Kebir, known as the 'island of the turtles' where turtles use to hide their eggs in the sand. The most common encounter in the whole Red Sea are is with the Green Turtle, Chelonia Mydas.
The current blowing close to the reef adds more chances to meet various kinds of sharks. On the way back we will stop to our last dive site, Wingate Reef, where we will visit the big 'Umbria' wreck. This site is visited also at the beginning of the cruise depending on the Captain's decision. This itinerary is the perfect combination between the 'The Best of..' and some dives of the South itinerary and it is advised especially for those who would like to see new spots without missing the milestones.