MALDIVE – FAR NORTH
FAR NORTH - From Male to Haa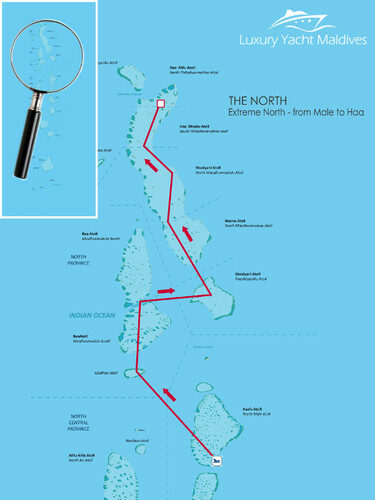 Extreme North - Male to Haa
10-days or 2-week safari starting and ending at Hulumale / Malè.

We start our cruise north-westward, mooring for the night in Rasfari Lagoon. The morning after we dive the oceanic reef of the Island and afterwards we keep cruising northward to reach Baa Atoll. Here we will find very peculiar dive sites characterized by the abundance of any kind of hard and soft corals. But the highlight of the atoll is Hanifaru Lagoon. From May to November, an exceptional concentration of kreel attracts hundreds of mantas for feeding and often some whale sharks also feed among them.
We keep cruising north-eastward to reach Lhaviyani Atoll, whose shape and particular position features oceanic channel dives either on the east and on the west side, giving us the chance to dive with "in-coming currents" in both monsoon seasons to spot any kind of pelagic fish including grey reef sharks. During summer time, the marine protected area of Fushifaru Thila becomes a spectacular manta point. But the cruise will go farther north across Noonu and Shaviyani atolls, vast areas only recently open to tourism with lots of dive sites to discover! Beautiful Thilas with overhangs and caves, soft corals, eagle rays, giant groupers and occasionally grey reef sharks. Throughout the cruise it will be possible to visit fishing villages and beautiful uninhabited islands.