CENTRAL ATOLLS
Central Atolls - North Ari and Rasdhoo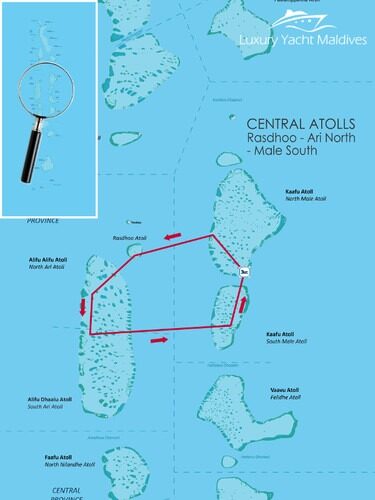 North Ari and Rasdhoo
A one week cruise that will begin and end at Hulule/ Male airport.

Navigation will start westwards, towards the island of Rasfari, which is just perfect for an overnight staying; we will then transit through the atoll of Rasdhoo (whose main island is the chief town of North Ari). Here, you will be given the opportunity to dive in search for hammerhead sharks.
Navigation will then continue towards North Ari, not far away, trying to sight the devil rays (manta rays), in some of the most renowned cleaning stations of the Maldivian archipelago. Moreover, there will be many stops on desert islands and in some of the "thilas", that attract divers from all over the world. On the second last day navigation will continue towards the atoll of South Male, where we will visit Guraidhoo - the most famous fishermen's island of the Maldives - and dive in the wonderful passes of the region, to sight sharks and big pelagic fish.
It is also possible to visit Male city on the last day.