MALDIVE – THE NORTH
THE NORTH - North Malè - Lhaviyani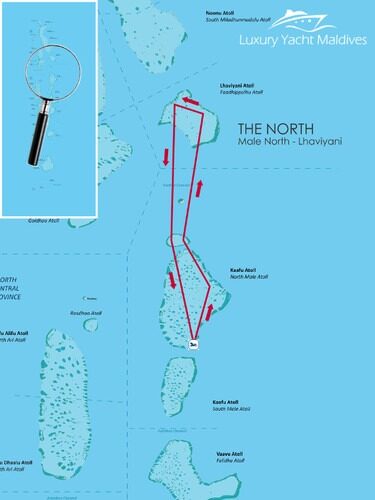 North Malè - Lhaviyani
One week safari, starting and ending at Hulumale /Malè.

We start our cruise northward and according to the season we will moor for the night on the eastern or western edge of the Atoll.
Male North Atoll has beautiful dives in "thilas" which are covered with soft corals and are home to many different kind of reef fish in big schools. According to the seasonal monsoon, both sides of the atoll offer terrific manta points, where there always are good chances to spot manta rays on cleaning stations all year round. We keep cruising towards Lhaviyani Atoll passing through the small Gaafaru Atoll, renowned for its wrecks (Lady Christine, Erlangen, SS Seagull). The shape and the peculiar position of Lhaviyani Atoll features oceanic channel dives either on the east and on the west side, giving us the chance to dive with "in-coming currents" in both monsoon Seasons to spot any kind of pelagic fish, including grey reef sharks. During summer time the beautiful marine protected area of Fushifaru Thilas attract many manta rays. There will be stops at unspoiled local fishing villages where it will be possible to experience the real rhythm of Maldivian life. Upon return to North Male, on the second last day it will be possible to visit the city of Malè.