EXTREME SOUTH
Extreme South - The Best Seven Laamu-Huvadhoo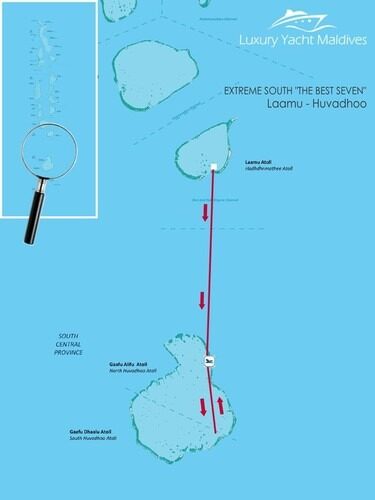 THE BEST SEVEN Laamu-Huvadhoo
Arrival at Kaddhoo airport on a domestic flight from Male. Two nights in Laamu atoll, to visit the best dive sites in the area (Mabaidhoo, Funaidhoo..) and then cross onto Suvadiva atoll –second largest atoll on the planet- to spend the rest of the week around the breathtaking Eastern edge with its incredible channel dives, rich in fish in large quantity and stunning dimensions.
Suvadiva atoll is definitely famous for the amount of pelagic fish, it is not rare to encounter sailfish and marlins (which please not only divers, but also fishing fans), green turtles, quite rare in the Northern atolls, and the beauty of the channels themselves, not only on the oceanic drop-offs, but also in the inner walls, where amazing encounters are always possible. The dive truly never ends! Being all dive destinations quite close to one another, sailing time is rather neglectable, and we have daily chances to land on desert islands, sandbanks and beaches. The beach barbecue night is very special aswell, a poorly colonized atoll offers incredibly starry skies and being that South we can spot galaxies and stars from both Hemisphere skies.
On the last day visit of the island of Viligili, where the fish factory creates an amazing divesite, and early morning departure to Male from Kadeddhoo aiport.