EGYPT – NORTH & BROTHERS
NORTH & BROTHERS Departs from and returns to: Hurghada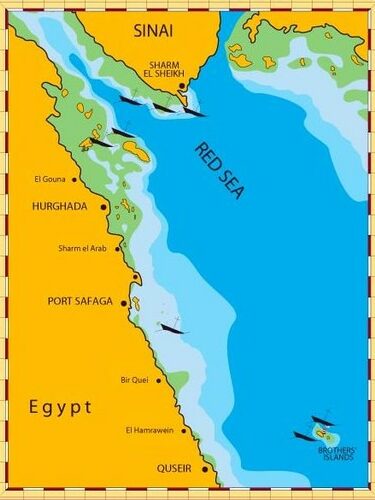 NORTH & BROTHERS Departs from and returns to: Hurghada
It's the perfect combination of wrecks and reefs, the route stops at the best of the northern wrecks including SS Thislegorm and the site of Abu Nuhas. Part of a National Park, the Brothers Islands are exclusive to liveaboards and more often than not you can spot sharks!
Route may include the protected area of Ras Mohamed.
Brothers Islands
Both Brothers offer incredible wall diving, ones covered in soft corals and forests of gorgonians. The islands attract a wide variety of species including large tuna, jackfish and snappers, not to mention the hammerheads, oceanic white tips, silky sharks and mantas.
Even the rare thresher shark is commonly spotted around these stunning islands.
There are two wrecks on the Big Brother; Aida, an Egyptian supply vessel, and the Numidia, a cargo ship that lies against the wall of the Big Brother. Both wrecks are covered in soft and hard corals.
Gubal
A lot of life can be found around Gubal Island, including an eel garden, a reef filled with lots fish including octopus, clownfish, parrotfish and butterfly fish - look out for George the Eel! The barge at Bluff Point is a wonderful choice for a night dive, while wreck divers can visit the Ulysses (5-28m) that lies on her port side and allows for easy, straightforward penetration. Scattered around the wreck on the seabed are bits and pieces from the ship, including a bathtub.
Ras Mohamed
On the southern tip of the Sinai peninsula, this national park offers some of the best diving worldwide. Due to its location and the varying salinity of the water, a remarkable array of marine life and plush sea walls are found there. Standout reefs include Shark and Yolanda, and whether you are new to diving or you are an experienced technical diver, Ras Mohamed promises a spectacular experience for all.
Rosalie Moller
A sister ship of the SS Thistlegorm, and bombed just the day after, Rosalie Moller is located at 35-55m, making it suitable for experienced divers only. Covered in hard and soft coral, the wreck also attracts a range of species, including barracudas, tuna, jackfish and trevallies; meanwhile glass fish, lion fish and groupers can be spotted inside the wreck.
SS Thistlegorm
The SS Thistlegorm is one of the most renowned wrecks in the world, regarded as a giant underwater museum and a special piece of history. Having sunk in 1941 after a bomb attack, today the Thistlegorm lies at 15-30m and offers a playground for divers that includes military trucks and motorcycles as well as boots, ammunition and a lot more.
Wrecks of Abu Nuhas
The four wrecks of Abu Nuhas - Giannis D, Carnatic, Chrisoula K and Kimon M - are all suitable for recreational diving. At a depth range of 5-30m, their proximity to each other is what makes Abu Nuhas an especially notable wreck diving site. Covered in both soft and hard corals, the wrecks are an underwater dream for the avid photographer.
Easy access to the machine rooms and engine room on both the Chrisoula K and Giannas D make it a perfect site for the explorer as well. Abu Nuhas is not only revered for its wonderful wreck diving though, there is also a good chance of encountering dolphins.