CENTRAL ATOLLS
Central Atolls - Felidhoo and Mulaku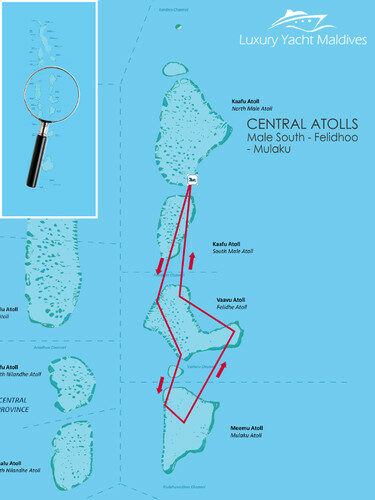 Felidhoo and Mulaku
A one week cruise with tours to five different atolls eastwards of the archipelago: North and South Male, Felidhoo, Vattaru, Mulaku.
A wonderful cruise that you can decide to take in any period of the year, thanks to the many diving points that offer the best sights of grey reef sharks, white fin sharks or manta rays, according to the season. After leaving Hulule we will head southwards, crossing therefore South Male, Felidhoo, Vattaru and touching the northern part of Mulaku.
You will get the opportunity to relax on wonderful beaches and desert islands, while those who are looking for great emotions will be satisfied by the stops nearby the channels of Alimathà, Fotteyo, Rakeedhoo and Mulaku. On our way back we will visit Guraidhoo with its precious shops of local handicraft and dive the atoll of South Male.
It is also possible to visit Male city on the last day.