In to the Wild
In to the Wild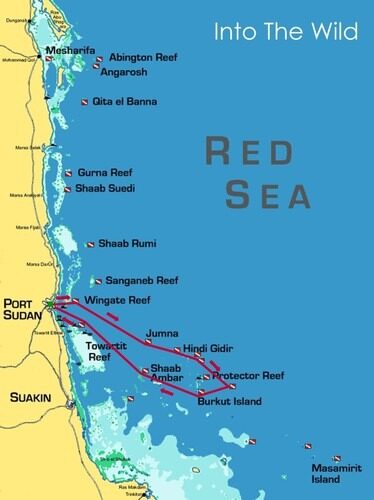 Period: from April to June, weather and sea conditions permitting
This itinerary will guide us to mostly unknown sites, but still untouched and full of surprises.
Leaving from Port Sudan and cruising 30 miles south we will reach Jumna, a triangular reef in the middle of the sea, which drops from the surface into the blue. The east side of the site is famous for schools of barracudas, silky sharks and big schools of hammerheads; at 30 metres on the south-east side, there is a cavern home of some white tip juvenile sharks. 9 miles from here there is Sha'ab Ambar lagoon, where we will moor for the night offering two wonderful dive sites: one North side and the other one on the South side.
Keeping south, we will reach a special and unique reef with a sandy island in the middle, call 'turtles' island' were turtles hide their eggs in the sand. It's Seil'AdaKebir, which offers two sites with amazing big soft corals and gorgonias and a possible encounter with the green turtle, Chelonia mydas.
South East of this point we will arrive at Keary Reef, a stony column which stands out from the bottom to the surface. An other wonderful dive is at Nakhalat al Qaseer reef with multicoloured corals, caverns and big pelagic fish. Protector Reef and Preserver Reef are two unexplored and unknown dive sites in the southern part of Sudan.
This is an itinerary considered as 'out of the classic routes' and dedicated to those who still would like to discover wild and unusual spots.