EGYPT – AEDALUS, ROCKY & ZABARGAD
DAEDALUS, ROCKY & ZABARGAD Departs from and returns to: Port Ghaleb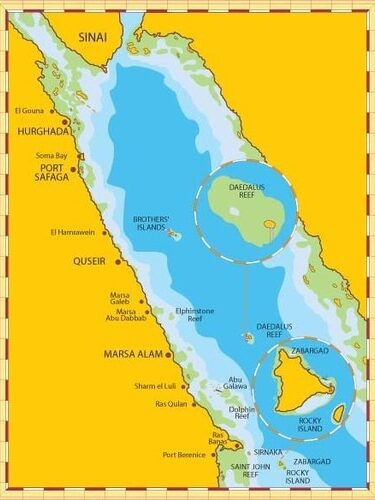 DAEDALUS, ROCKY & ZABARGAD Departs from and returns to: Port Ghaleb
This route offers top notch reef and shark diving opportunities; it is ideal for deep and tech divers in particular. Dive sites include deeply hidden treasures such as the Zealot and the SS Maiden. These are exclusive dive sites with no daily boats in sight.
Daedalus
Located 80km east of Marsa Alam, this isolated offshore reef offers some of the more impressive dives in the Red Sea. Less than a kilometre wide, the reef is adorned with coral walls and filled with a handsome variety of typical Red Sea species. Always remember to keep an eye in the blue where anything can be passing by; oceanic white tips, thresher sharks, mantas and reef sharks are often spotted there. Daedalus is especially known for scalloped hammerhead sharks, which during the summer months can be seen in large schools.
Also located on Daedalus reef is the Zealot, a loaded cargo ship from the late 1880s.
Beginning at 75m and plunging deep down to 110m, this site is exclusive to advanced, technical divers.
Elphinstone
The Elphinstone reef is located 12km offshore and about 30km from Marsa Alam. Famous for drift dives, these take you along the wonderful deep walls, rich with coral. If you´re lucky you could come across oceanic white tips, hammerheads or reef sharks. With outstanding plateaus on both the north and south sides, you will need a minimum of three dives to fully explore this fantastic dive site.
Rocky Island/SS Maiden
A diver's dream, the reef that encircles Rocky Island drops to stark depths, leaving walls covered in softs corals and black coral trees.
Due to the constant currents that flow throughout the year, marina life is fruitful and abundant. However, the true treasure is hidden at 80-110m. Arguably one of the most beautiful historic wrecks in the Red Sea, the SS Maiden sits on a plateau, extending out to 100m before it drops off and into the abyss.
Zabargad
The biggest and southernmost island of the Egyptian Red Sea, Zabargad is an incredible dive location that offers wall diving and shallow diving, both of which afford you with a spectacular view of the unspoiled hard and soft coral gardens found there.