EGYPT – DEEP SOUTH
DEEP SOUTH Departs from and returns to: Port Ghaleb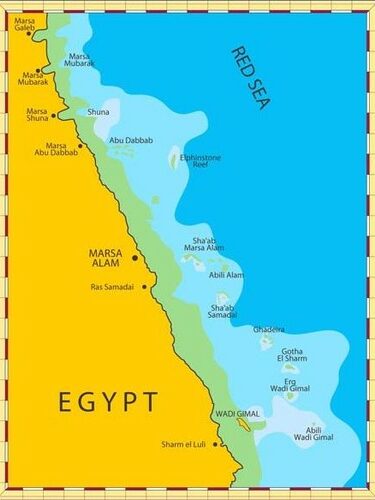 DEEP SOUTH Departs from and returns to: Port Ghaleb
This is a chance to explore the southern most area of Egypt's Red Sea, the route includes bountiful reefs and playful cave like formations.
Sharks, mantas and Rosso dolphins have been spotted on this route, the locations are exclusive to safari boats, with no daily boats in sight.
Elphinstone
The Elphinstone reef is located 12km offshore and about 30km from Marsa Alam. Famous for drift dives, these take you along the wonderful deep walls, rich with coral. If you´re lucky you could come across oceanic white tips, hammerheads or reef sharks. With outstanding plateaus on both the north and south sides, you will need a minimum of three dives to fully explore this fantastic dive site.
Hamata & Fury Shoal
An unforgettable area of the Red Sea, Hamata includes the playful cave systems of Claudio and Malahi. Shallow and enjoyable to swim through, these spots are popular with all those who visit them. Fury Shoal is just as pleasant and as a natural habitat for spinner dolphins, it's a wonderful site to swim with them and watch them play.
St. John's
Located on the Tropic of Cancer near the Sudanese border, this collection of reefs boasts a number of excellent dives spots. Part of the Elba National Park, its expansive underwater plateau is varied with drop-offs, breathtaking coral formations and gardens with lots of tunnels and caves to explore. There is a flourishing reef life and shark sightings are very likely. Its high visibility and good temperatures in winter make this a must-see destination.